A Boston Tradition Since 1907
The first documented Boston Light Swim took place in 1907. Over the history of the event the race course has changed, but the Boston Lighthouse on Little Brewster Island has always played a part. The modern swim starts in the water at the foot of America's first lighthouse, erected in 1716. During a flood tide swimmers snake their way past the Harbor Islands and 8 miles later finish at the L Street Bathhouse in South Boston. This swim is perfect for individuals who would like to try a cold water ocean swim before attempting an English Channel crossing.
In 1907 during the Old Home Week celebration three men attempted the swim from the Charlestown Bridge to Boston Light. The event was a 10-mile race from Charlestown Bridge, that ran east of Governor's Island, west of Long Island, west of George's Island, and finished at Little Brewster Island. Samuel Richards and Commodore Alfred Brown dropped out while Louis Jacot went on to win the race.
Read about the lengthly history of the Boston Light Swim in the July 2018 issue of Outdoor Swimmer magazine
First female finisher of the Boston Light Swim
On 30 July 1908 on Boston's Revere Beach, Annette Kellerman plunged into the ocean determined to swim to and from the Boston Light. She gave up just yards short of the thirteen-mile finish, prompting a Boston Post reporter to proclaim: "Annette's wonderful swim was far from being a disgrace." This was welcome adulation, given that just one year earlier Kellerman had been arrested on a Boston beach for wearing a men's one-piece swimsuit. Her "scandalous" attire and the subsequent reckoning in the courtroom in which her pragmatic appeal to a judge who understood the voluminous swim dresses of the day would only hinder a woman trying to do more than dip helped relax laws relating to women's swimwear and pave the way for women to dominate in the sport of marathon swimming.
In 1909, Austrian Alois Anderle completed the Boston Lighthouse Marathon Swim--sort of. He started out with eight other swimmers and followed the same route as competitors in the 1907 event had used. Anderle completed the last half mile in a severe thunderstorm in an admirable 5 hours 38 minutes. However, he was later disqualified for walking across an exposed sandbar at Nix's Crag. The next year, 15-year-old Rose Pitonof won the race in 6 hours and 50 minutes. She was the first woman to compete the event and depending on how you look at it, the first overall finisher. Her record stood for several years and she's become the patron saint of the BLS.
English Channel swimmer and BLS winnter
Samuel Richards, a Boston-based swimmer better known for swimming the English Channel, won the first of two Boston Light Swims held on in 1911. He complete the swim in 6 hours 15 minutes on August 6 when other competitors got lost in a fog around Long Island. But the women wouldn't be outdone that year; Alsie Aykroyd, a 17-year-old Boston woman won the second Boston Light Swim on August 20, becoming just the fourth person and second woman to achieve the Light. She started the race along with three professional male swimmers (Alois Anderle among them) and she was the only one to compete the race, which she did in seven hours, 12 minutes.
A trailblazing figure of marathon swimming, women's empowerment and entertainment
Samuel Richards wins again in 1912 with a time of 5:15.41 almost an hour better than the previous year. Three others out of 42 entrants completed the race. Several hours before the race Anne Morecroft, a young local swimmer, attempted the same course. She fainted in the waters off of Fort Strong and was taken to the hospital in serious condition.
August 17, 1913, Samuel Richards swam from the Charlestown Bridge to Boston Light and back, an estimated distance of 24 miles. This was the first time the feat had ever been accomplished. Richards was in the water for over 13 hours. Ten others attempted the swim to Boston Light with only two making the distance. Richards was the only one to even try the return swim.
No one reached Boston Light in 1914. Seventeen swimmers entered the water on September 6th, but the race was stopped due to a change in the tides. First place was awarded to Jack Hurwitz because he was in the lead when the race was called off.
In 1915, Henry Miren made a record breaking swim on an ebb tide with a time of 4:54.
1919 Stopped early due to a lightning storm
1921 Charles Toth 5:37, the only finisher
1923 John Bray at age 60 was declared the winner. He was pulled from the water exhausted after swimming 7 hours and 35 minutes, one mile short of the finish. He was the only swimmer to make it that far.
1924 Eva Morrison swam for over 7 hours and made it to within one mile of Boston Light. The other swimmers exited the race earlier saying the water was too cold. Miss Morrison ate chocolates fed to her from a row boat for energy. She finally stopped because the tide had changed.
BLS Champion and English Channel Swimmer
In 1925 the race course was the reverse of the modern day swim. Sixteen swimmers left from the L Street Bathhouse and finished at Boston Light. For the first time in the swims history Boston Light was reached by more than one swimmer in the same race, the feat being accomplished by Walter Patterson, 39, of Bridgeport, Conn. with a time of 7:20, and Max Freedman of Beachmont, 8:30. Irene Hesenius, of Winthrop, at age 17, won the amateur race later in August with a time of 7:09 (11 minutes faster than the pro Patterson).
August 22, 1926 Miss Mae Elwell, 17-year-old Revere swimmer, defeated Miss Eva Morrlson of I Piotou, N. S., in a race to Boston Light today by one hour and 46 minutes. Her record time was 6:45. Twelve swimmers planned to swim the race but only four entered the 57 degree water.
1927 Sixteen year old Frances Vincent of East Boston won the women's race. She was the only one to finish with a time of 7:15. (pictures, articles and notes of Vincent's swim were provided by Vincent's grandson, William Portalla)
1928 No one finished the traditional course from the Charlestown bridge. The swimmer who had gone the furthest, Grace Currier, a 16 year old who swam in the nude received first prize. A second race that same year went from Boston Light in to L Street, the same course we swim today. Jimmy Cullen of Charlestown won that year.
1929 Anne Pearson, a 19 year old from Worcester, won the women's race with a time of 7:23. Charles Gartland, a 19 year old from Ohio, was declared the winner of the men's race even though no one reached Boston Light. He attempted the swim last year, but only made it half way. He blamed the failure on "a lack of beef". This year he prepared by gaining 17 pounds in 13 days by consuming "two quarts of milk and a jar of cream a day, about a quarter pound of butter and all of the mashed potatoes I can get a hold of".
1930 Richards won the professional race against six other swimmers with a time of 6:10.
1931 Bill Hanley won the amateur race from Boston Light, but was disqualified because he had swum in the earlier professional race. The award was given to John Mullen who finished 5 minutes behind Hanley.
1932 combined pro-am race pro: Joe Nunan 5:01, am: John Jarosh 5:05. Nunan went on to win the event a total of six times.
1933 Joe Nunan 5:44
1934 Charlotte Arne, a 17 year old girl from Medford, swam to Boston Light and back with a time of 13:36. She was first woman to complete this feat. The only other person to swim both ways was Richards back in 1913.
July 28, 1935 "Only Four Finish in Boston Swim". Only 4 of the 19 swimmers finished with John Mullen of Dorchester winning by just 40 seconds with a time of 4:23. Joe Nunan came in close behind him to take second place.
Breaks the ice at Orient Heights
1936 Joe Nunan was the only finisher.
1937 John Mullen set a record from Boston Light to the L Street Bath house with a time of 3:35.
1938 Russell Doucette, a 22-year old Squantum Swimming Club member, won in 3:43 passing Mullen in the process. August 7 1939 Nunan today won the thirty-fifth annual Boston Light swim in the record time of 3 hours 22 minutes, 13 minutes from the set by John Mullen of Boston.
August 11, 1940 Joe Nolan of Boston broke the course record with a time of 2:46
The Boston Light Swim is discontinued at the onset of World War II.
September 1969 James J. Doty, 34, set a new record for the swim to Boston Light and back. His time was 9:30. He shattered the times of Arne in 1934 and Richards in 1913.
In 1978, Jim Doty incorporated the New England Marathon Swimming Association (NEMSA) as a charity to promote swimming and study water conditions. It re-started the Boston Light race on an annual basis. Jim Doty is a world renowned open-water swimmer and in 2002 he was inducted in the International Marathon Swimming Hall of Fame (IMSHOF).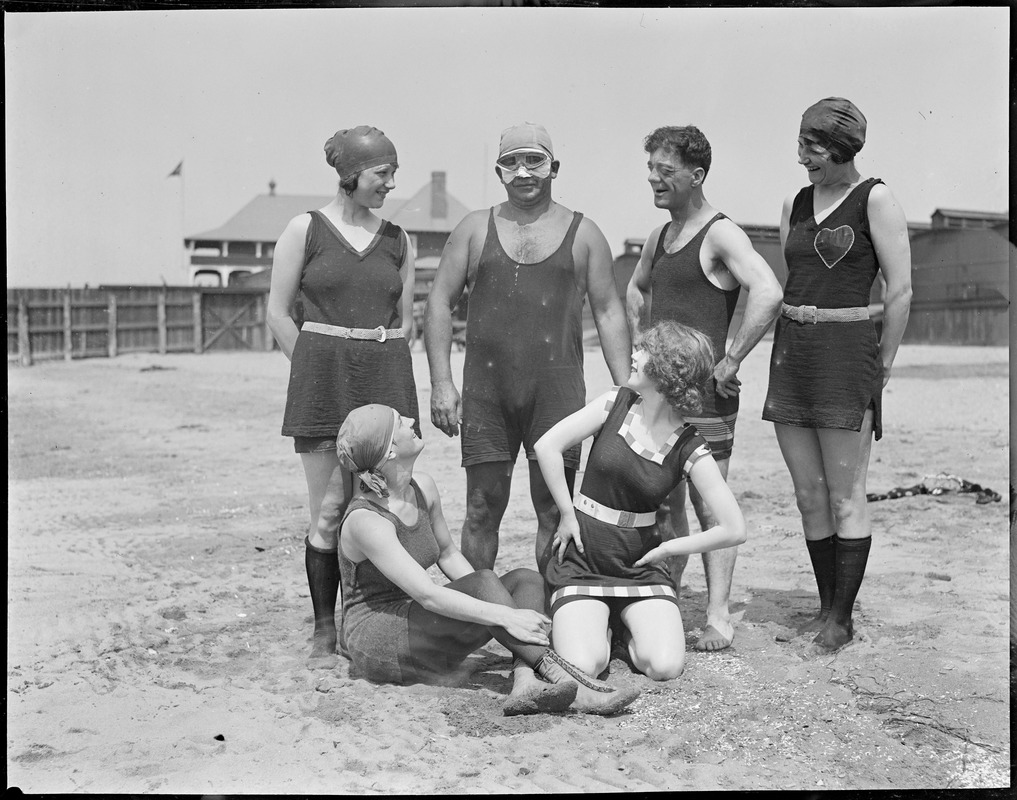 Charles Toth and Bozo Snyder's Bathing Girls at L Street Bathhouse
Leslie Jones Collection, Boston Public Library, Digital Commonwealth Massachusetts Collections Online
| Year | First Place Finisher | Hometown | Finish Time |
| --- | --- | --- | --- |
| 2018 | Guy Davis | North Hampton, NH | 2:45:32 |
| 2017 | Bill Shipp | Mitchellville, MD | 2:49 |
| 2016 | Eric Nilsson | Boston, MA | 2:25 |
| 2015 | Penny Palfrey | Queensland, Australia | 2:56 |
| 2014 | Bill Shipp | Mitchellville, MD | 2:59 |
| 2013 | Eric Nilsson | Honolulu, HI | 2:46 |
| 2012 | Eric Nilsson | Honolulu, HI | 2:35 |
| 2011 | Matthew McKay | Wellesley, MA | 2:41 |
| 2010 | Elizabeth Mancuso | Cambridge, MA | 2:42 |
| 2009 | Seb Neumayer | Cambridge, MA | 2:57 |
| 2008 | Ray Gandy / Seb Neumayer | Coventry, RI / Cambridge, MA | 2:44 |
| 2007 | Ray Gandy | Coventry, RI | 3:30 |
| 2006 | Mark Warkentin * | Santa Barbara, CA | 2:26 |
| 2005 | Dori Miller | Somerville, MA | 3:04 |
| 2004 | Bill Ireland | Los Angeles, CA | 3:14 |
| 2003 | Will Riddell | Cambridge, MA | 3:05 |
| 2002 | Marcia Cleveland | Riverside, CT | 2:47 |
| 2001 | Fred Knight | Wayland, MA | 4:59 |
| 2000 | Meryem Masood | New York, NY | 3:31 |
| 1999 | Tom Dugan | Norton, MA | 4:36 |
| 1998 | Ireana Sombera | Orleans MA | 3:14 |
| 1997 | | | |
| 1996 | David Alleva | Quincy, MA | 2:23 |
| 1995 | David Alleva | Quincy, MA | 2:20** |
| 1994 | Julie Burnett | Stoneham, MA | 3:38 |
| 1993 | Julie Burnett | Stoneham, MA | 3:41 |
| 1992 | Bob Bristol | | 3:04 |
| 1991 | William Paine | MA | 3:41 |
| 1990 | Jim Peters | Sudbury, MA | 3:30 |
| 1989 | Jim Peters | Sudbury, MA | 3:17 |
| 1988 | Dave Van Mouweirk | Acton, MA | 3:14 |
| 1987 | Marcy MacDonald | Manchester, CT | 2:55 |
| 1986 | Marcy MacDonald | Manchester, CT | 4:04 |
| 1985 | Nathalie Patenaude | Quebec, Canada | 3:08 |
| 1984 | Jeff Sheard | Columbus, Ohio | 3:41 |
| 1983 | Margaret Broenniman | Washington, D.C. | 3:27 |
| 1982 | Sharon Beckman | Cambridge, MA | 3:07 |
| 1981 | Todd Bryan | Rhode Island | 2:38 |
| 1980 | Brian Hanley | Cambridge, MA | 4:10 |
| 1979 | Karen Hartley / Brian Hanley | Dorchester, MA / Cambridge, MA | 4:15 |
| 1978 | Brian Hanley | Cambridge, MA | 4:51 |
| 1977 | RoAnn Costin | Cambridge, MA | 5:21 |
| 1976 | Jim Doty | Dedham, MA | 5:39 |
* Swimmer finished in 8th place in the 2008 Olympic 10K open water swim
** Current course record
This Boston Light Swim history was constructed in 2009 from direct communications with Robert McCormack, a compilation of newspaper articles, as well as "The History of Open-Water Swimming" by Capt. Tim Johnson.